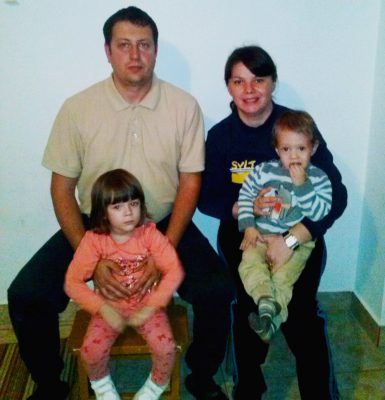 Traian (40 years old) comes from a family of 3 children, with him being the youngest of the three. Meanwhile Eugenia (35 years old) his wife, comes from a family with 6 children with just one sister being younger than her.
In 2012 the two of them got married after a beautiful love story. They then moved into a block of studio apartments in Beius, a block of apartments with many problems, although they didn't know this yet. The communist block of apartments for single people was built from concrete without any thermal insulation, as were the requirements and technology back in the 60s. Since then, the conditions haven't improved and in fact they've deteriorated.
The conditions in their home seemed acceptable, but after a short time they realized how difficult it was to live there. It didn't take them long to see that their first and biggest issue was to be mold. "We like to live in clean conditions and for everything to be in its place. As soon as I saw an area of mold, I cleaned it. But because the home wasn't insulated, as soon as it was cold outside, the mold grew in area. I was forever cleaning with all sorts of cleaning solutions and the whole apartment was smelling of Chlorine" said Traian.
When their second child was born, Traian needed to give up work for a year to help his wife with the children. Being a small space, in fact just a single room, when one of the children was sleeping, they had to take the other child out for a walk so as not to disturb the other child.
As the children were growing, Traian and Eugenia realized that the space was insufficient and that heating water on the stove was not sufficient as a source of hot water, that it was risk to heat the apartment with just a single terracotta stove which needed to be continuously filled with wood during winter when it was cold… "In April 2016, we decided we couldn't remain in the small single room apartment and we moved into an apartment with two rooms courtesy of some friends from our church" said Eugenia.
Even after they got married, they tried everything to get a decent home, from the city hall, from the National Agency for Homes, from the First House Program, but they weren't eligible for any of them. "After many trips to the city hall, we found out about the possibility of obtaining a home through Casa Draga Casa's program. We applied for homes everywhere, for social housing, within the national housing agency program and for a Casa Draga Casa home. And after many years, the first to give us a positive response, were volunteers from Casa Draga Casa and we're very happy!" said Traian joyfully.
Daydreaming of how a new a new home will improve their lives, Eugenia says "Firstly, it'll be our home! Our children will have sufficient space, a safe courtyard and they'll no longer be staying in the street next to the furniture factory where they had been until now. We'll have much more peace and privacy then what we had in the block of apartments. But most importantly I believe that our two children will have a chance for a beautiful childhood as they grow up."
Traian and Eugenia are looking forward to working on their own home, laying brick on brick and hitting nails alongside friends, volunteers and Casa Draga Casa's specialists!