The Benedek Family Story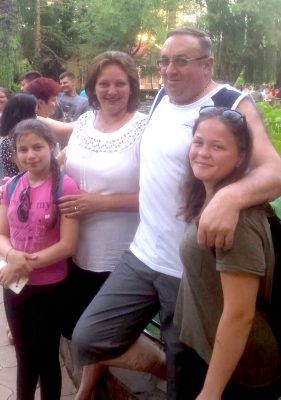 Ana and Sorina are two sisters with a unique life story. It's a tale of sacrifice, devotion, and a lot of love. The girls, coming from different families, were abandoned after birth. Ana was left at the Children's Hospital in Oradea when she was a year and a half old, brought there in critical condition by her father, who then abandoned her. Sorina was left in front of the former orphanage in Oradea when she was two years old. Ana was born into a disorganized family, with separated parents, while Sorina came from a family with 12 siblings, all of whom were abandoned one by one.
However, the two girls were fortunate to be placed in foster care at a young age, being embraced by a loving family. They were raised by Estera and Iosif Benedek, alongside their two biological children, in a nurturing, healthy, and welcoming environment. Ana fondly recalls the parents who raised them and the years of their childhood: "We were very small and unruly, but with patience, wisdom, and a lot of love, our adoptive parents managed to raise the young ladies we are today. I am very grateful that they welcomed us into their family, raised us, and had great patience with us. I greatly appreciate them for being exceptional parents who always made sure we lacked nothing and were well-dressed like other children."
They attended kindergarten and the early years of school in the village of Finiș, where they live, and then continued their primary education in Beiuș. The two girls were together all this time, in the same class and sitting at the same desk. The main reason was that, even during their early years, their new parents discovered that Sorina had serious difficulties in understanding and perceiving what was happening around her. In order to benefit from the assistance of a speech therapist, the parents enrolled the girls in the "Nicolae Popoviciu" Primary School in Beiuș, which had teachers trained to handle such cases. Additionally, for seven consecutive years, Estera took Sorina to a specialist in Oradea to help her overcome the barriers of speech and comprehension.
"I had to get my driver's license and buy a car so that I could take Sorina to Oradea for specialized treatment because until the age of 4, she could only say two words: 'mom' and 'give me'," recounts Estera Benedek.
Ana was the one who always stood by Sorina's side at school, and after completing the eighth grade, she chose to attend a vocational school with her sister to continue supporting her. Sorina always needs assistance and supervision in everything she does, even when eating to remember something that seems trivial to us, like chewing and swallowing food. Therefore, Ana always kept an eye on her at school, as well as at home with their parents.
In 2021, the girls graduated from the vocational school at "Ioan Ciordaș" Technical College in Beiuș, obtaining a diploma in the field of "Textile and Leather Industry." However, Ana is an ambitious person and wanted to pursue high school education as well. Therefore, she enrolled again in the tenth grade at "Samuil Vulcan" National College in Beiuș. After obtaining her high school diploma, she plans to attend the Faculty of Letters in Bucharest, specializing in foreign languages with a focus on the Korean language. She also desires to have a home of her own where she can continue taking care of Sorina, thinking ahead to the time when their parents won't be around.
Even though they have turned 18, the girls have chosen to remain with those who raised and cared for them. Now, however, they need more than the room they grew up in, and they are mature enough to think about their future. And because the two sisters are inseparable, they plan their future together. They now wish for a house of their own in Finiș, the village of their childhood, where they can settle because Sorina still needs her sister to feel safe. Their adoptive parents support them in this endeavor, having obtained a preliminary agreement from local authorities for the girls to benefit from a free plot of land for young people under 35 to build their house.