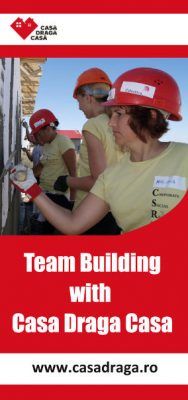 Casa Draga Casa provides a unique training opportunity for your employees to perform as a team while helping a family in need.
No building experience is required. All the participants are instructed and supervised by Casa Draga Casa's trained specialists on site.
Over 4,000 international and Romanian volunteers have lived the Casa Draga Casa experience, forming as strong a bond with their fellow volunteers as with the community and beneficiary families with whom they built.
Team members become personally implicated in the CSR projects of their company, taking pride in participating in its charitable works.
Casa Draga Casa has hosted corporate CSR teams from companies large and small, ranging from local to multi-national companies such as Whirlpool, Celestica, Vodafone, Europharm Distribution and Provident Financial who have all partnered with Casa Draga Casa over the years.
"It's wonderful that from time to time you can help a noble cause, like what I've been able to do today with my colleagues from Provident. I decided to come back and volunteer with Casa Draga Casa after last year when I volunteered at the Easter House for a poor family in Buntesti." – Anca, volunteer from Provident Financial