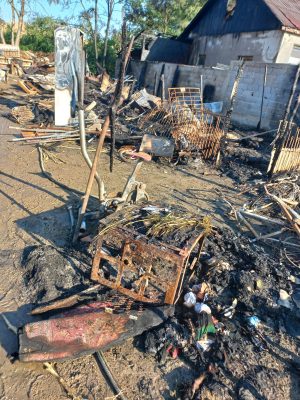 Between 15th and 22nd September, volunteers from Celestica in Oradea are building the roof of a house in Bors for a family that lost their home due to a fire.
During the period of 15-22 September, the Association Casa Draga Casa (Home Sweet Home), which helps needy families to live in a decent, durable and healthy home, together with over 100 volunteers from Celestica in Oradea, are giving a helping hand to install the roof of a home for a family from Borș whose house was burnt to the ground this summer due to an electrical short circuit. The mayor's office allocated some of the resources needed to build the house, but also called on the support of the community to help the 8 hard-pressed family members, who lost everything, to have a new home before the winter.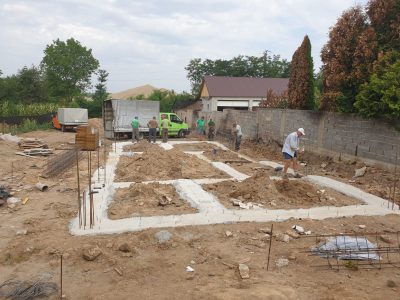 "When I saw what happened here, I appealed to the people in our community and they quickly jumped to the aid of the family, offering both material and financial support or labor. They donated food, clothes, construction materials and up until now, we have managed to pour the foundation, to raise the walls and now the roof is going to be raised. I thank all those who have not remained indifferent and contributed however little, to this project" says the mayor of Borș commune, Mr. Géza Bátori.
The appeal of the City Hall did not remain without an echo and both locals and others who heard of this trouble, mobilized  together with churches, companies, NGOs and others to gather some of the resources needed to raise the house. Among the most important contributors is the company Celestica in Oradea, which immediately responded to the call and involved over 100 employees as volunteers.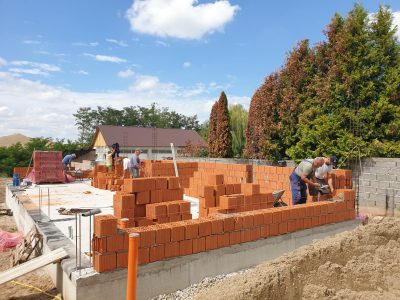 "At the end of July, the mayor told us about the drama that this family went through and asked for our support knowing that we were actively involved in the life of the community. We were glad to find out that we will collaborate again with the Association Casa Draga Casa and together we will help this family. Together with our colleagues, we live the pleasant feeling of being a volunteer, of getting involved and of being human. I thank my colleagues for their involvement, organization and all their dedication!", says Carmen Toie, HR Business Specialist and volunteer at Celestica.
Every morning the volunteers receive an instruction on health and safety, they receive safety helmets, gloves and the rest of the necessary equipment. They are equipped with work tools and divided into teams coordinated by the specialists from Casă Dragă Casa as they get to work. The plans are to raise the roof in just a few days and put the last tile on the house.
Donations can still be made to the following accounts opened with Banca Transilvania: EUR: RO73BTRLEURCRT0CE2778601 or RO29BTRLRONCRT0CE2778601.
More photos can be viewed here: https://www.facebook.com/media/set?vanity=casadraga&set=a.10159205299652334