20 volunteers from 10 countries from all around the world helped build a home at night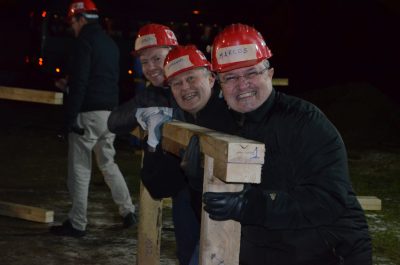 The charity "Casa Draga Casa", which supports families in need to get a decent home, hosted a unique event on Wednesday, January 22, starting at 6:00 pm. Together with 20 volunteers, executives from the company Eberspächer, who came to Oradea from all over the world, cut wood, hit nails and made the necessary doors and windows for the charity's next project.
"For us, although we have hosted volunteers for more than 20 years, it is the first event in which we work outside, in January, in the light of spotlights, at zero degrees, at night, involving only top managers from 10 countries from all over the world. The result was spectacular, the people felt excellent, and the smile and goodwill were the predominant note throughout the event," says Emil Popa, program director at the charity.
The volunteers were trained on the health and safety rules, received hard hats, gloves and the rest of the necessary equipment, were equipped with work tools and were divided into teams. Each team was coordinated by a specialist from the charity and after a short assembly demonstration they started work. Some cut the necessary elements, others assembled them, and others supported the logistics of all the activities by supplying the necessary materials. Everything functioned 'as in Germany', like from where the volunteer's company originates.
"The experience has been unforgettable. We were not beaten either by the cold outside or by the physical work after a day full of meetings. We want to repeat the experience in many corners of the world," says Michael Hoeller, one of the Eberspächer volunteers in the project.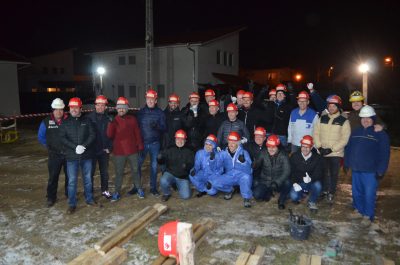 The 20 volunteers were from Romania, Germany, Portugal, Czech Republic, Italy, South Africa, France, Brazil, Russia and Colombia. They were pleased at the end of the event to taste some mulled wine or some or some brandy from Bihor. And with a round of applause, each participant received a volunteer diploma.
The Eberspächer Group is one of the world´s leading system developers and suppliers of exhaust technology, vehicle heaters and bus air conditioning systems. Eberspächer is an independent company with freedom to act. With approximately 10,000 employees in 29 countries in around 80 locations we are represented in all key markets of the worldwide automotive industry.
Eberspächer Exhaust Technology Romania was inaugurated in October 2016, activates in the automotive industry and produces the exhaust system for vehicles (pipes, catalysts, exhaust drums) having as clients companies such as: FIAT, Jaguar, Renault, Peugeot, Daimler, BMW etc. Currently, the company has more than 700 employees and is in full development.
More photos can be veiwed here: https://www.facebook.com/pg/casadraga/photos/?tab=album&album_id=10157760015227334