13 Employees from Sykes in Oradea gave a helping hand to the finishing of homes for 4 families in need.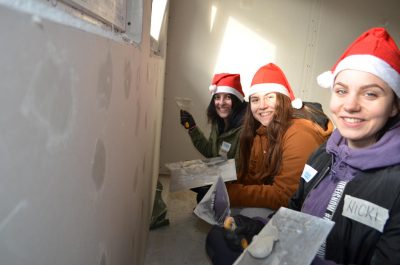 The gift of Saint Nicholas that employees from Sykes in Oradea gave to less fortunate families was a volunteer day at their homes. They turned into the Santa's helpers having also the appropriate attire, wearing red hats, being full of energy and good will. For one day they worked on the interior finishing of four apartments within the project "Housing for a safe future".
"Our collaboration with Sykes dates back 3 years and we're happy every time that these wonderful young people jump to help those less fortunate. It's been proven that through Corporate Social Responsibility, as is the case here, the problems in the community where we live can be resolved much more efficiently and quickly. We thank these wonderful people!" says Emil Popa, program director at Casa Draga Casa.
The 13 volunteers chose to spend their free time in a useful way to mark both the International Day of Volunteering on December 5th and the feast of Saint Nicholas, characterized by giving, generosity, kindness, on December 6th. So, on Saturday morning they warmed up with a cup of tea and got to work. They worked on the interior finishes of several houses within the project in Oradea of the association Casa Dragă Casă. They had fun, worked and enjoyed giving the help they could provide to families who are looking forward to having a safe and healthy home.
 "For us, volunteering through the company we work for is an opportunity to enjoy doing good deeds together. Despite the cold outside, the joy of my colleagues, Sykes volunteers, was overwhelming. I would like to thank them for responding in great numbers to help people in difficulty and it is a pleasure to be welcomed every time by those from Casa Draga Casa," said Loredana Simion, a volunteer from Sykes.
The project "Homes for a safe future" intended for 30 families who could not otherwise obtain a simple, decent but durable home, will be completed next year. More than 2000 volunteers of all ages, both from within Romania and abroad, have worked on this project.
More photos can be viewed here: https://www.facebook.com/pg/casadraga/photos/?tab=album&album_id=10157633731727334