20 employees from Sykes in Oradea, volunteered at the home of a family with 6 children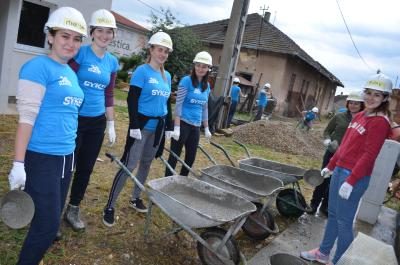 This weekend, Habitat pentru Umanitate Beius has received the help of 20 volunteers from Sykes in Oradea. They responded promptly to Habitat's call for volunteers to continue the "Homes for a a secure project" in Oradea where, at the end the project, 30 families will have a healthy long lasting home. They are the representatives of the first company out of a series of companies from Oradea who have expressed their wish to support the association's activity during this year.
"We have offices in Cluj, Sibiu and Oradea. Everywhere we work, we want to give something back to the community. We have a group, Charity Actions, in which employees can engage in three ways: financially, by donating resources or their time. This type of activity we have with Habitat is very good for us because the company comes with financial resources and employees offer their spare time to help a good cause together," says Sykes volunteer Ivona Kolínská.
The beneficiaries of the volunteers' efforts are the Coste family from Oradea who have six children. They are renting in an old, degraded house on the outskirts of Oradea in extremely difficult conditions, and they are they are looking forward to seeing their dream of having a home. They worked together with volunteers, quickly becoming friends with those who came "to put a brick" at their home.
"I'm really glad that I chose to spend my day here. It's great to work with our colleagues and with the Coste family, and and get to know them, finding how nice and friendly they are, despite such a hard life. After a lot of work in the office, today's activities have been excellent for me, even if it's rained a few times during the day", says Brigitta Pop, volunteer from Sykes.
It is not the first time that companies from Oradea are involved in the activity of local NGOs. In recent years, just at Habitat, more than 20 companies have participated financially and more than 1,000 volunteers have helped building housing for the less fortunate. Among them are the companies: Celestica, Comau, Faist Mekatronic, Adeplast, Total Clean, Smartware, European Drinks, Icelandia, Connectronics, etc. Habitat's teambuilding experience causes larger or smaller firms to wish to repeat their volunteer activities, for example, the company Celestica, has come for seven consecutive years with hundreds of volunteers to raise homes.
"Personally, I like to help people in need whenever I can. Moreover, the actual experience here helps me to build stronger relationships with my work colleagues, working side by side with them in common workshops. That's how I discovered that both my colleagues and those at Habitat are extraordinary people! It is a feeling that makes me not realise the effort that I'm making and my heart  is joyful even if the working environment itself is a little more difficult and tiring," says Stefan Davidescu, another volunteer from Sykes.
More photos can be found in the facebook photo album using the following link: https://www.facebook.com/habitatbeius/photos/?tab=album&album_id=10155526034697334