Between 8th – 19th September 2014, Habitat for Humanity Beius will host 300 volunteers from Celestica within the project "Houses for a safe future" in Oradea, where the volunteers will raise together 20 houses. The houses will be built in record time – in just 2 weeks! One hundred and twenty walls will be raised using over 13,000 Weinerberger bricks and 500 sacks of mortar. That means that over 100,000 kilograms of construction materials will pass through the hands of volunteers.
The project "Houses for a safe future" is one that is running over a 3 year period. The houses will be built with the help of Romanian and international volunteers under the supervision of Habitat specialists on land made available by the Real Estate Administration in Oradea. These homes will be in multifamily dwellings (duplexs and fourplexs), so that two or four families would share the same building. To date, the first two houses were built in September 2013 with support of 300 volunteers from Celestica. Meanwhile, a further six homes have their foundation and walls raised.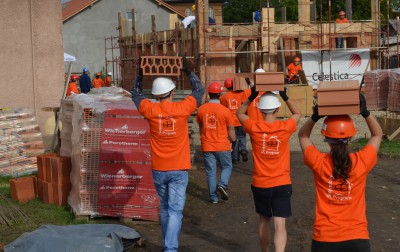 The collaboration with Celestica started in 2010, when their employees worked on building a foundation within the partnership that Habitat has with the charity Caminul Felix. Ever since then, year after year "celestial" volunteers have contributed to the building of five Habitat houses in Oradea. Over 700 employees have made this possible, with a further 300 volunteers mobilizing their energies at the beginning of September for a new challenge, the biggest one so far.
A house has a surface area of 56 m2 and is composed of two bedrooms, a living room, kitchen and bathroom. They will be built with bricks with vertical hollows and the first floor will be built from wood with sandwich walls constructed from plywood, mineral wool, polystyrene, drywall and stucco. These walls together with double glazed windows provide excellent thermo-insulation, such that home will be heated for a very low cost. At the end of this project, 30 families will have a safe, decent and healthy house.
The volunteers will start the work day with a training, in which they will learn everything that is needed to carry out activities on the work site. As such, there is no need for any construction experience and there will be tasks for all, indifferent of their strengths, as they are led and supervised by the Habitat specialists.