13 volunteers, 11 students with two teachers from the "American International School – Salzburg" school in Austria, volunteer again with us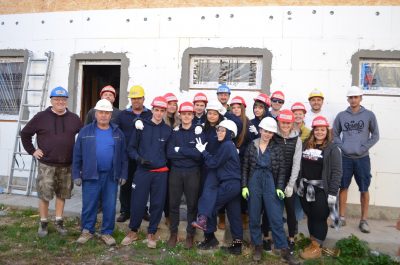 Between 23rd and 26th October, the 13 volunteers, students and teachers from the "American International School – Salzburg" school helped us at our project "Housing for a safe future" in Oradea. They were involved in several different construction activities, from installing drwall to exterior plastering and preparing the boards for the eaves. All the youth are in Romania for the first time as volunteers and come from several countries, including Romania! However, it's not the first time for the Austrian school, who for the sixth year have had volunteers come to support Casă Dragă Casă with its projects.
The students chose to attend the CAS (Creativity, Action, Service) school program necessary in order to obtain the internationally recognized baccalaureate diploma. The purpose of CAS is for young people to learn from practical experiences, how to be active in the community and how to help those around them. Volunteering is considered of major importance for the development of young people, which is why hundreds of students are involved annually in humanitarian or volunteer activities organized by the school or with non-profit organizations.
"I learned from my colleagues from last year about the beautiful experience in Romania, so I chose to join this team to help here! I'm glad I made this decision because the experience was fantastic. I learned beautiful things and met wonderful people," said one of the students participating in the project.
In addition to the activity on the worksite, the young people also visited two schools, one from a rural area, from the locality of Leş where they played with the local students, played sports together, sang and danced in a relaxed and joyful atmosphere. Then they visited the High School of Art in Oradea where they participated in an lesson and exchanged impressions with their Romanian high school colleagues, learning about the differences and similarities between the two education systems.
Before returning to Austria, they also had a surprise: a traditional Romanian evening where they attended a show with dance and folk songs from Bihor county, tasted local dishes and received volunteering diplomas and small symbolic gifts to remind them of Romania.
More photos can be viewed via this link: https://www.facebook.com/pg/casadraga/photos/?tab=album&album_id=10157512896317334