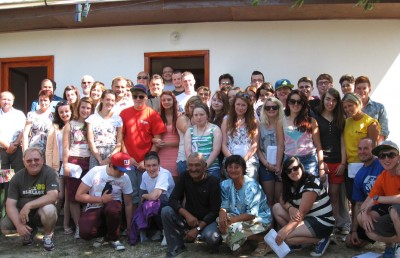 Youth Initiatives : Volunteering with the needy!
31 young people from Northern Ireland volunteered for 2 weeks in Bihor county, together with the needy to help them have decent living conditions.
At the end of this week, 31 youth from Northern Ireland will return home after working for 10 days together with the needy in Beius, Capalna and Oradea. The majority of these young people are around 18 years old and have chosen to spend some of their vacation as volunteers.  As such, they split into two teams, one team of boys and one of girls. The 13 boys helped painting, installing laminate flooring and the finishing of some homes in Beius, whilst the 18 girls worked on the Habitat worksite in Oradea where they worked on finishing some homes as well as preparing the foundations for events that will be organized by Habitat Beius during the autumn.  They teams also worked in Capalna helping the Popescu family to achieve their dream of having a safe and healthy home.
"We are members of a club called Youth Initiatives from Northern Ireland which is involved in various social community projects. I decided to join the group and come to Romania with the thought of helping people from here like I do at home and with the hope that it would be a special experience. Yet these past few days have been much more beautiful that I imagined and I go home with a new perspective on life" declared Curtis, one of the volunteers.
>Alongside the volunteer work, the youth were able to experience traditions and local culture, participating in many events organized for them. They enjoyed the Romanian traditional evening the most by far. They enjoyed the local food, listened to folk music, became acquainted with old clothing and musical instruments and at the end they themselves danced a few steps to folk music form Bihor. They visited tourist attractions in the area, enjoying the beautiful scenery, from the rich formations at the Bears' Cave to the geo-thermal waters in Beius, Oradea, Felix of Sanmartin.
"Before coming to Romania, I wasn't expecting at all what I found here. It's an absolutely fantastic country, with open, welcoming people and exceptionally good food. I've already made several friends and I've been left with really beautiful memories. For sure, I will come back!" said Aine, one of the young Irish.
Saturday, before returning by coach to the airport and travelling home, the youth participated at the dedication of one of the houses where they worked. They handed over the keys, a Bible and flowers to the new house beneficiaries.
For photographs of the boys team click here! 
For photographs of the girls team click here!
Here is the direct link to the short interview of the 3 volunteers from above: https://www.facebook.com/v/10151759727537334
Here is the link to the short film showing how good they felt even if they were working can be seen here: https://www.facebook.com/v/10151755568132334