45 employees from Smartware in Oradea, most of them IT people, worked for a day building homes for the needy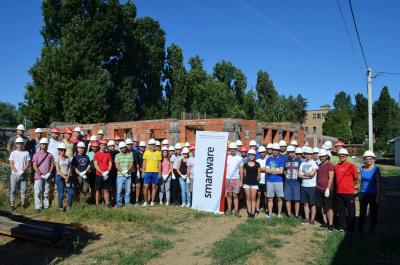 Friday, 14th July, 45 employees from Smartware in Oradea left their cool offices, comfortable chairs and ergonomic keyboards to help build homes for less fortunate families. For one day, they worked together with the beneficiaries of the houses, preparing concrete, making the concrete reinforcements and installing a ceramic flooring as part of Habitat pentru Umanitate Beius' project in Oradea called "Homes for a secure future".
"We were delighted to be able to participate again alongside the Habitat team, to help those who really need a home. It is the second consecutive year when our team is involved in this project and we hope to repeat this beautiful experience next year" says Claudia Ţirban, Smartware volunteer coordinator.
The computer scientists, even if they are not very familiar with physical work, have shown great dedication and involvement such that the progress they made has been extraordinary. They managed to convert more than one palette of cement into concrete, made metal beams weighing over a ton in total, and passed through their hands almost a thousand ceramic blocks necessary for the creating the first floor of four homes.
"I am very happy that these wonderful people, whom I have not seen in my life, have made this effort for me and my family. For a long time we wanted to have a good home and now our dream is getting closer to being fulfilled," says Bogdan Coste, a Habitat beneficiary.
Within the project "Homes for a secure future" in Oradea, 30 families will benefit from a safe, decent and healthy home. 7 families have already moved into new homes and another 5 homes are in a very advanced stage with their work.
In a week's time, another company from Oradea has already announced its participation with more than 30 volunteers within the same project.
More photos can be found in the facebook photo album using the following link: https://www.facebook.com/pg/habitatbeius/photos/?tab=album&album_id=10155614596452334