300 reloaded in Oradea

Over 300 volunteers, employees of Celestica Romania Oradea, will give a helping hand to build the house of one of their colleagues.
If in the famous film 300, the Spartans from Thermopylae defended the castle with their lives, here in Oradea we have 300 heroes of a different nature. They demonstrate solidarity as they unite their strengths and energies for a good deed. Three hundred volunteers from the same company in Oradea, have jumped to help a work colleague to help her fulfil a lifetime's dream to have a decent home for herself, her husband and their daughter.
Mariana has been working for a few years at Celestica but she is not on child care leave. She submitted an application to Habitat for Humanity Beius for a home and now the works have started on their own home. Although they hadn't seen her for a while, colleagues hadn't forgotten her and there were queues of people to apply to volunteer in the project proposed by Habitat in partnership with Celestica. The partnership began in 2010 and each year since then, the company has involved employees in volunteer activities with Habitat, helping to build many homes for those in need.
"We're happy to continue the partnership that we started 4 years ago with Habitat for Humanity. At the same time, we're happy to see that many Celestica employees offer themselves as volunteers in projects that we organise throughout the year. This year we have over 300 people who will help build some homes. By chance, we're also happy that we will build a home for one of our employees, selected by Habitat after applying to the program. During the two weeks of the project, we will have the joy of working with colleagues of ours from Canada, Germany, Czech Republic, Spain and Ireland, who also requested to participate alongside us." declared Codruta Bala, Human Resources Director, Celestica Romania.
Constantin Guiaş, Marina's husband, who friends call Costeluş, comes from a family that fell apart when he was a child. So at 17 years old Constantin left home to go and work and make sense of the world around him, full of hope to build a much better future than what he had so far had in his childhood.   "I tried to do everything, but I slowly realised that things are really difficult here in Romania, and so I th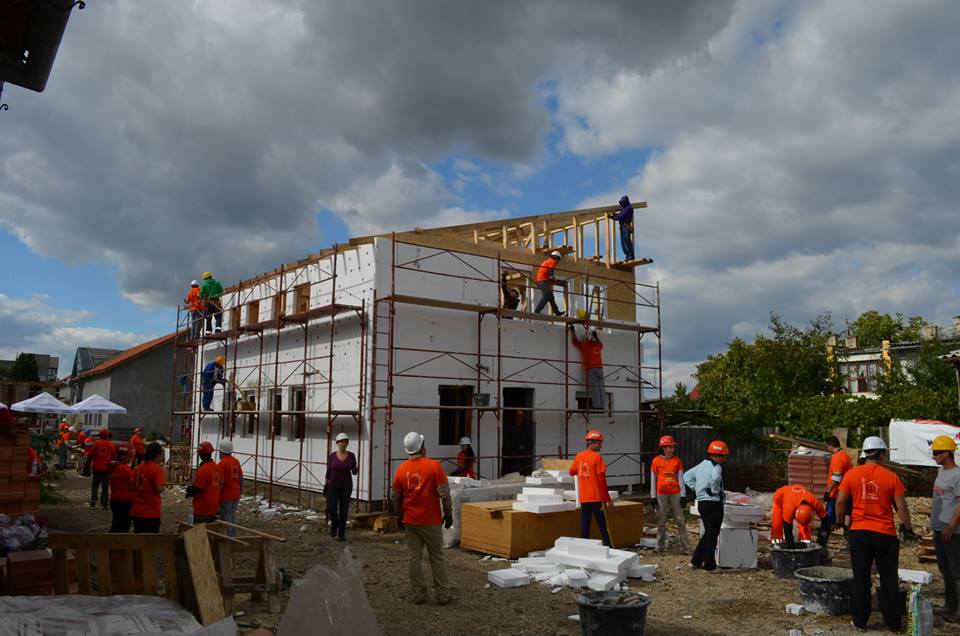 ought about leaving…" said Constantin. At the same time he still had hope that things would improve here, but unfortunately it wasn't to be.
He worked in different fields, from construction to insurance and at the beginning he also sang at weddings, but he was unable to save money for a home which he had been dreaming of since childhood, a dream that was slowly drifting away as time went along.  "…On the contrary, I could barely succeed in paying the rent and bills. I was left with very little spending money."  It was when he thought his luck had disappeared 5 years ago, that he met Mariana, who later became his wife.  "My wife is a simple woman from the countryside, a God fearing woman who comes from a modest family. Her father passed away from an incurable disease when Mariana was a student and so she has also been through many trials in life."
After they got married, they tried to get a credit from a bank in order to buy a house or at least an apartment, but it was in vain as their salaries were too small and not a single bank would consider them eligible for a loan. Soon, their daughter, the joy of their lives, Alexia, came into the world, and so they tried with greater desperation to find a solution to their need for a home. They found out about Habitat and decided to apply and are now one of the future beneficiaries of a Habitat home. And now it's with great joy to find out they have 300 friends who care about their fate!
You can see more pictures from the event on our Facebook page, here! Enjoy! (You don't need a Facebook account to browse the pictures.)