100 employees, the majority of them IT specialists, from the company Smartware in Oradea will work during the week 3-7 September 2018 to build a new home for Alex and his grandmother!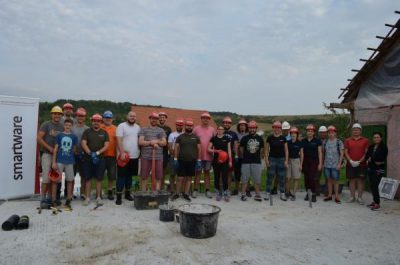 During the week of 3-7 September 2018, employees from Smartware will work be working in Hidisel de Sus to build a house for Alex (12 years old) and his grandmother Floare (70 years old). They will be working on the foundation prepared by specialists from Habitat pentru Umanitate Beius.
Habitat pentru Umanitate Beiuş together with kind hearted people and together with Smartware Company have proposed to help two souls in need of help. The story begins in December 2017, when articles about Alex appeared in the press, a 12-year-old child from Hidişel, who was left without a mother and was being raised by his 70-year-old grandmother, Floare, who she herself has health problems. The two of them lived in the "old house" that was built more than 70 years ago, consisting of a 9 m2 small room and a hall where a well is dug. The floor was old wooden flooring, the walls were full of holes through which the mice and the rats moved, the window with a just a slither of glass, and the furniture consisting of two beds, a table and a stove with a hob. In this context, a few volunteers in the village poured a new concrete floor and changed their doors and windows.
Now Habitat, together with the local community, with the support of several companies and especially with the involvement of Smartware in the project, will be able to offer decent and healthy living conditions for Alex and his grandmother, how every child and elderly should have. In just 5 days, volunteers will build a new home from a pre-prepared foundation for Alex and his grandmother Floare!
"See that we've come this year as well, the third consecutive year that we have been involved in projects carried out by Habitat pentru Umanitate Beius. And this year we're building the SMARTWARE HOUSE for Alex and his grandmother from Hidişel de Sus. It's been a considerable effort that we have mobilized 100 of our colleagues in the company, but the reward will also be a good thing when at the end of the week we see a house having been built from scratch," said Ioana Ciobanu, PR specialist from Smartware, the coordinator of the volunteers.
The project started on Monday 3rd September with the raising of the walls. The volunteers (approximately 20 in each of the 5 days) will build Alex's new house with the help of specialists from Habitat pentru Umanitate Beius.
The IT specialists, even if they are not very familiar with physical work, have come with enthusiasm and positive energy to give a helping hand, showing great dedication and commitment, such that great progress has been made even from day one.
"I am very pleased to see so many people in my yard who are helping me to change my life just as I was dreaming and especially to know that I will finally have my room where I can invite my colleagues to do our homework and to play," said Alex Cazaciuc, the Habitat beneficiary.
On Friday, 7th September, at 3pm, a ceremony will take place with the handover of the symbolic key for "Smartware House".
More photos can be found using the following link: https://www.facebook.com/pg/habitatbeius/photos/?tab=album&album_id=10156608267937334