20 employees from Sykes Oradea jumped to help a younger brother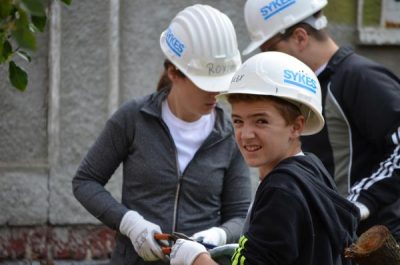 Alex is a quiet child and always has a smile on his face. He's 11 years old and lives in a village near Oradea. He's just finished 6th grade with really good results, even though he doesn't have parents. His father went away when he was young and forgot about him, while his mother died from a terrible illness and bitter suffering. He remained with his grandmother in her old adobe house but thanks to some people with good hearts, the two of them will have a decent home of which they have long dreamed. The 20 older siblings who jumped at the chance to help, aren't siblings by birth, or from the same church or even the same nationality. They are siblings of joy and kindness! They are young people who are eager to help those in need and it's not the first time that they done this, it's their 3rd experience of this type. They responded positively to the appeal made by Habitat pentru Umanitate Beius and planned this action for over a month.
"This time last year we were helping a mother raising a little girl to live in better conditions and now my friends and I want to help Alex, our younger brother, to enjoy a liveable and decent house! So we gathered together 20 colleagues and chose to come here and spend our Saturday giving a helping hand," said Bianca, a Sykes volunteer.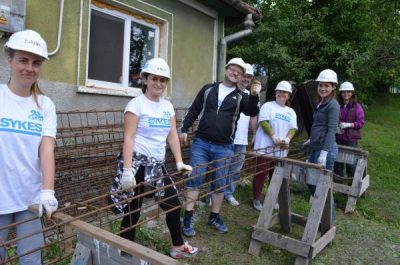 Since the end of last year, many people who learned about Alex's sad story of having recently lost his mother, jumped to help him with what they could: clothes, food, toys, home appliances, and they even raised money to arrange a room to make it easier over the winter period. Then they requested Habitat's support, who in turn began to mobilize resources and volunteers for this beautiful but downtrodden child to live in better conditions. The boy now has a lot of friends who come every day and help him with what they can, and Alex thinks of them as big brothers and sisters.
"I learned about this project from my colleagues and I immediately chose to get involved as well. I'm really glad that I made this decision because I felt great here! I will certainly repeat the experience as many times as will be needed," says George, another Sykes volunteer.
Sykes is the first company to respond positively to Habitat's request, and the organizers confess that just two hours after launching the volunteer call, the 20 places available for this project phase were filled!
More photos can be found using the following link: https://www.facebook.com/habitatbeius/photos/?tab=album&album_id=10156447000107334