Over 200 employees from Celestica, have proposed to raise four homes for those less fortunate as part of an annual project of Habitat pentru Umanitate Beius.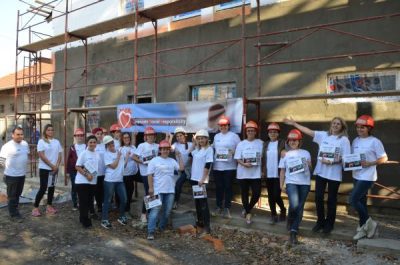 For 10 days, during 8-19 October 2018, over 200 Celestica employees joined a project in collaboration with the charity Habitat pentru Umanitate Beius. They have proposed to raise four homes through voluntary work for 4 families that do not have a decent home! It's not the first volunteer experience for many of those participating as many of them are the charity's most loyal volunteers. The event is taking place in Oradea within the project "Housing for a safe future". During the two weeks, volunteers will hammer nails, raise walls, install the heat insulation, mount the roof tile and apply the decorative plaster on the four dwellings that will be enjoyed by four families that have gone through many difficulties in life.
Since Habitat and Celestica's collaboration began nine years ago, the company has involved 1128 employees in the projects within this partnership, helped with work and helped financially to build 19 new homes, 3 studio apartments, raised the walls for 24 homes and poured the foundation for 11 houses. In total, they have volunteered 75 days for the benefit of those in need of a healthy and healthy home. This year, the beneficiaries include two single-parent families, a family whose child has severe health problems, and also a young family who come from large families and no matter how much they have tried, have been unable to buy even a studio apartment because they were not eligible to receive a loan due to their low incomes.
"I alone have raised my three children as best I could, after a painful separation from my husband many years ago where I was left with nothing. Only I know how I struggled to provide for them. I am happy now that I will finally be able to sit down after a life of moving from rental accommodation to other rental accommidation, often under precarious conditions," says Liliana sadly, one of the project's beneficiaries.
The collaboration with Habitat is part of the company's social responsibility program, its goal being to create an impact on the local community, to make positive change and, ultimately, to promote a culture of sustainability at company and area level .
"We want to thank our colleagues who support our program, without their involvement and contribution, our projects would remain just that, projects," says the company's representatives.
The symbolic keys of the four homes will be handed over at a ceremony that will take place on Friday, 19th October, at 3pm, at the corner of Harghita Street and CFR Pavilions.
More photos of the event can be found by accessing our online album here: https://www.facebook.com/pg/habitatbeius/photos/?tab=album&album_id=10156679622842334