Employees from Leroy Merlin in Oradea show solidarity by working for two days as volunteers insulating some homes for low-income families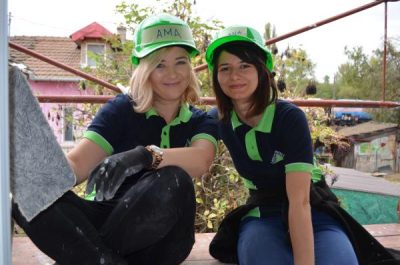 A team of volunteers made up of Leroy Merlin employees chose to help Casa Draga Casa in their project of building 4 homes for less fortunate families in Oradea. The company continues the tradition that has become more and more popular in the last few years amongst multinational companies in Oradea, who choose to give something back to the community in which they operate. So, in addition to the sponsorship that Leroy Merlin made in building materials and work tools, they offered their employees the opportunity to participate as volunteers in this project. For two days they mounted the thermosystem, applied the decorative plaster and mounted the drywall on the interior walls of the houses.
"I am very glad to see that my house will be ready soon! I can hardly believe that such a thing can be done be here. Thank you to these wonderful people who have made our dream come true so quickly! I also wish that all their wishes will be fulfilled as quickly as possible!" says Irina, one of the beneficiaries of the project.
This autumn, in addition to Leroy Merlin's help, Casa Dragă Casă also received help from ACI Worldwide, who also for two days installed the roof of the four houses. In the upcoming period more teams are due to come in support of those who can not get otherwise a good, liveable and decent home. These teams include two teams of volunteers from abroad as well as students from schools in Oradea during the annual event "A different type of school".
Leroy Merlin's motto is "Together we build a home", and so employees of the company chose to do actually do this physically this and expressed that they were very proud of doing it. Leroy Merlin is the European leader in the DIY market, with a history of more than 90 years as a retailer specialized in construction, decoration and gardening. The Innovative company within ADEO, Leroy Merlin owns nearly 700 stores in 13 countries in Europe, Asia, Africa and South America and has nearly 88,000 employees. In constant progress, ADEO has become the largest French company on the international market. Currently, ADEO group companies are recognized throughout the world through the numerous "Great Place to Work Institute" awards. In Romania, 17 stores operate, with over 2,000 employees in 13 cities: Bucharest, Cluj-Napoca, Craiova, Ploiesti, Brasov, Constanţa, Sibiu, Suceava, Targu Mures, Bacau, Iasi, Timisoara and Oradea.
More photos can be viewed via this link: https://www.facebook.com/pg/casadraga/photos/?tab=album&album_id=10157432708432334