Students from Bihor county as strong as those from Europe
50 students from two schools in Bihor county competed with youth from Ireland in building homes for the needy.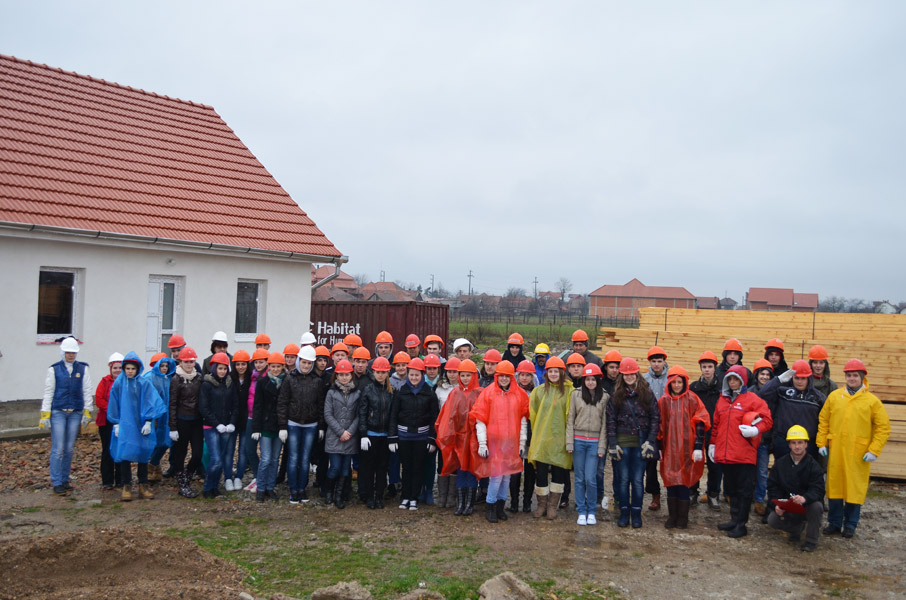 Since 2002 there has existed an annual tradition that Habitat for Humanity Beius hosts volunteers from various international schools from throughout Europe and the USA. Amongst them, we remember: Le Rosey College from Switzerland, Wesley College from Ireland, Bilkent School from Turkey, Herlufsholm Skole from Denmark, International School of Stuttgart from Germany, Central Michigan University from USA etc. Even from the start of this year, 4 important European schools, one from Denmark, two from Germany and one from Ireland, have been present on the Habitat worksite.  Their model has been taken on by schools from Bihor county who for a number of years have come and taken part in Habitat projects.  This week, as part of the national program "To know more, to be better!" students from the Economic College "Partenie Cosma" from Oradea and the Technical College "Ioan Ciordas" from Beius, signed up to be volunteers.
"As a teacher, I've lived an unforgettable experience together with my students. It was an intensely lived life lesson, a moment in which students succeeded in clearly distinguishing the notions of "desire" and "need", having been humanly sensitized, something which is often missing from everyday life. The students have understood what it means to help practically, to commit, to actively and consciously participate in community life. Even if our tasks as teachers in the form of specialists is difficult, here we have succeeded through all of this experience, to form PEOPLE!" said Mihaela Pap, teacher from Economic College "Partenie Cosma".
There were 3 days in which students participated together with Habitat for Humanity Beius at various activities proposed under the partnership between Habitat and the schools mentioned. After learning about what is Habitat and what it does, students participated for a few hours at a course about energy efficiency held by the Beius association. A full day was dedicated to work on the worksite. Despite the weather being against them, it didn't stop the young volunteers from carrying out what had been proposed. So, they moved and arranged the wood needed to build the 10 homes which will be raised in one week by students at the end of June in Beius within the project "Build the Wesley Way".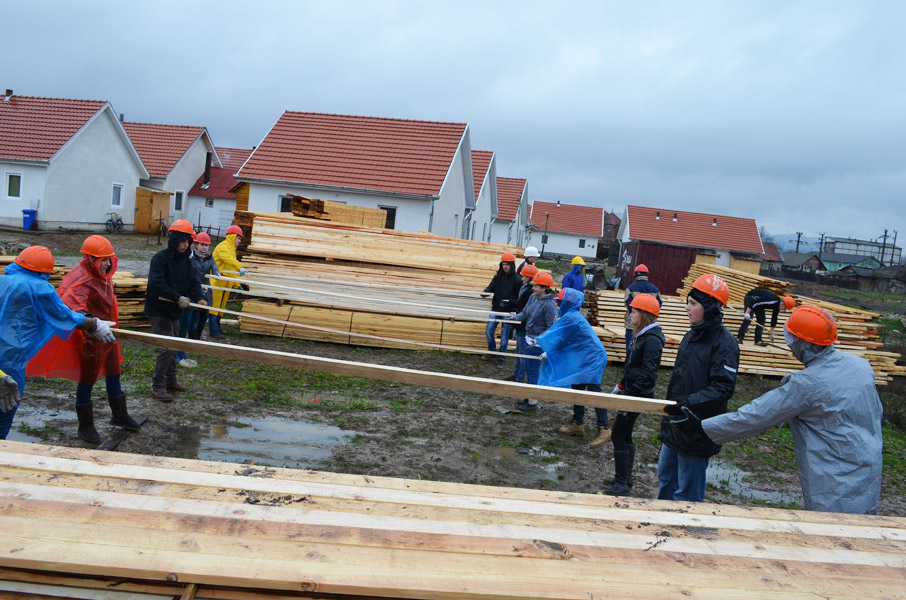 "It's the first time that I've taken part in this sort of activity, but for sure I want to repeat it! I felt so good and had so much fun that I've become Habitat's biggest fan. In addition, I've done something useful and I'm happy that  I chose to participate along with my colleagues with whom we made a great team." Said Ionut, one of the young volunteers.
Also during this week in Stei, 21 volunteers from Ireland helped a family fulfil a dream, to have a house. They worked all week to build this house and on Friday 5th April, they participated at the house inauguration celebration.
You can see more picture on our Facebook account here:
https://www.facebook.com/media/set/?set=a.10152133583257334.1073741834.61575062333
https://www.facebook.com/media/set/?set=a.10152132120957334.1073741833.61575062333