A team of 21 volunteers, students accompanied by their teachers from the "American International School – Salzburg" in Austria, volunteer for needy families in Bihor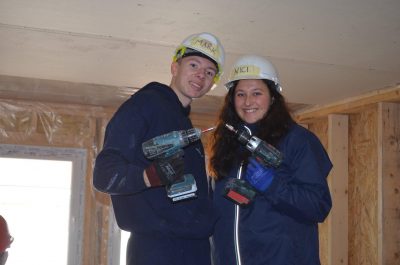 Between the 24th and 27th October, 21 volunteers, students and teachers from the American International School – Salzburg School, will help many families who do not have a decent home, to enjoy a decent roof over their heads. The youth are for the first time in Romania and come from 10 countries on three continents: Albania, Austria, Belgium, Bulgaria, Greece, Great Britain, Mexico, Russia, USA and Ukraine. It's not the first type of volunteer activity for the Austrian school, as this is the 5th year that the school has had volunteers come to Bihor to support the projects of Habitat pentru Umanitate Beius. Those who will enjoy their help are families from the project "Housing for a Safe Future" in Oradea, and also Alex, the boys cared for by his grandmother in Hidişel and also young people who have grew up in adoptive families from the "Căminul Felix" foundation in Oradea .
The students chose to come as part of the school program CAS (Creativity, Action, Service) which is needed to obtain an internationally recognized baccalaureate diploma. The goal of the CAS program is for the youth to learn from practical experience about how to be active in the community and how to help those around them. Volunteering is considered to be of major importance for young people's development which is why hundreds of students are annually involved in humanitarian or volunteer activities which are organized by the school or together with non-profit organizations.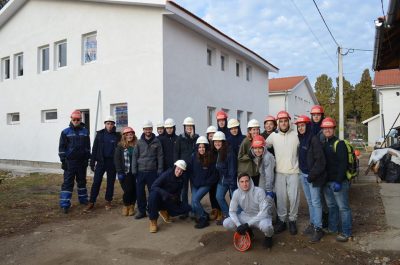 "I'm very enthusiastic about what's going on here! It is a great feeling for me to see how young people from all over the world work together for a common good. I'm glad I chose to come to Romania with Habitat because here I am learning something very useful and at the same time helping someone who is in direct need of my support. Certainly I will recommend to my colleagues to come to build homes in Beiuş next year," said Konstantin, one of the students from Bulgaria who participated in the previous projects.
Habitat will also prepare a surprise for the youth so that their experience in Romania will not only be about housing, they will also participate in other activities. As such, they will enjoy a traditional Romanian evening including a performance of folk dances and songs from Bihor county as well as traditional Romanian food. They will also visit an orphanage and depending on how much free time they have available, they will also visit places of interest such as the historical area in Oradea, Baile Felix or Baile 1 Mai.
More photos can be viewed on facebook here: https://www.facebook.com/pg/habitatbeius/photos/?tab=album&album_id=10156714426237334